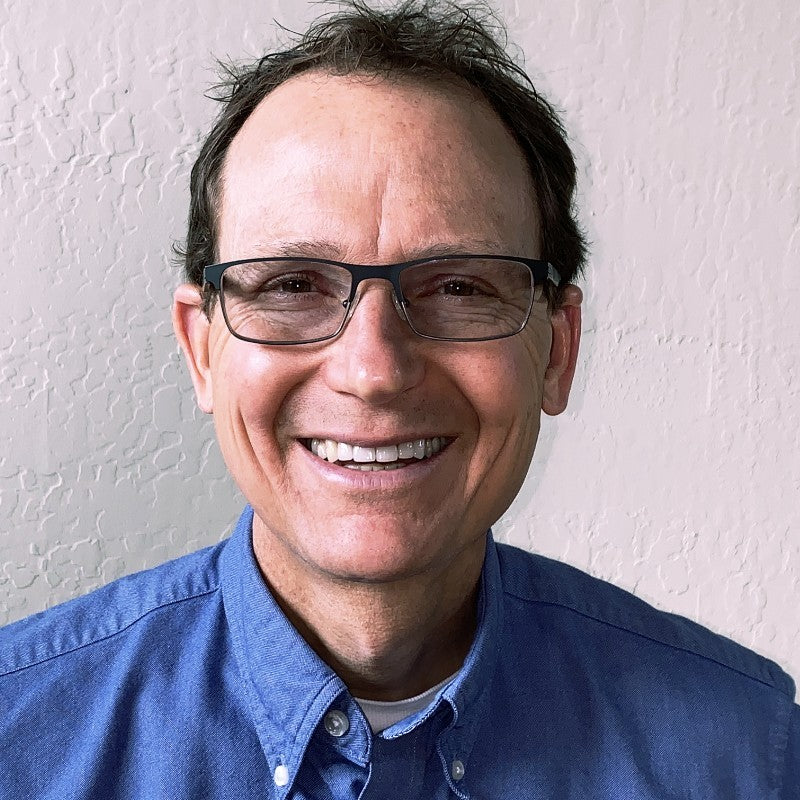 Michael Parker
Michael Parker has twenty years of experience in the accessibility and assistive technology field. He has developed products for the visually impaired as well as implemented access solutions for people with disabilities in many different settings – from individuals to employment centers, libraries, hospitals, and universities. Michael has a master's degree in Mechanical Engineering from Stanford University, and holds IAAP's Web Accessibility Specialist (WAS) and the DHS' Trusted Tester certifications. He is a regular presenter on digital accessibility and the use of assistive technology at a number of national conferences, including CSUN's AT Conference and CTEBVI. When Michael is not living, breathing, teaching and learning on all matters accessibility-related, he can be found running, swimming, biking, hiking and spending time with his wife and two children.
Document Accessibility Team
Rachel Reeves - Digital Content Accessibility Project Manager

Rachel is our organizational whiz, and acts as a central point of contact for clients and staff to ensure the on time and successful completion of projects undertaken by our Document Accessibility Team. Rachel originally hails from the Midwest, where she completed a degree in Organizational Communications at the University of Wisconsin Eau Claire. Since graduating, she has been working in event management, marketing and customer service positions, and also found time to thru-hike the Appalachian Trail. When she is not project managing, Rachel and her husband take advantage of North Bay's fantastic hiking and thrifting scenes, and when she wants to get away from it all, Rachel recharges in her hammock with a good book.

Dylan Sirdofsky - Accessibility Specialist

Dylan remediates digital content and assists with marketing activities. He is a Sonoma County native with a bachelor's degree in Communication & Media Studies with a minor in English from Sonoma State University. After college, Dylan became a cognitive skills trainer and discovered the value of helping others, which led to roles in administration, customer service, and journalism. He considers himself a lifelong learner and spends his free time creating videos for his YouTube channel while collecting and watching an endless list of movies.


Kyle Beyerink - Accessibility Specialist

Kyle reviews and remediates documents and videos for accessibility.  Kyle studied Economics at Iowa State University before moving to Florida, Rhode Island, California and now Seattle, where he is happily settled with his wife and cat. On his off time, he enjoys hiking and music.
Assistive Technology Solutions Team
Ian Ramos - Assistive Technology Specialist, Northern California

Ian has over a decade of assistive technology training and support experience both in a professional and personal atmosphere. He enjoys working with computers and assistive technology in general. He always does his best to help educate others in computer use while at the same time getting them comfortable with using vital assistive technology. Ian believes customer service is a key aspect of business and enjoys bringing his customer service skills to the work environment. Ian is a graduate of Sonoma State University and is also JAWS certified.

Mark Schafer - Assistive Technology Specialist, Southern California

Mark has worked in the assistive technologies sector in the Los Angeles area for twenty-five years. His expertise in AT was a natural extension of his interest in PCs, which began in 1986 when he acquired his first DOS computer system. From there, he has kept up with the latest trends in technology and assistive technology, specializing in both Windows and Macintosh environments. He also obtained RESNA (Rehabilitation Engineering and Assistive Technology Society of North America) and ATACP (Assistive Technology Applications Certificate Program) certifications from CalState Northridge (CSUN), renowned for its annual AT Conference. An extrovert, Mark brings a special brand of patience and good humor to any challenge. Mark lives in Lakewood with his wife Julie and enjoys home improvement projects and karaoke during his time off.
Digital Accessibility Team
Sophia Maxwell - Web Accessibility Specialist

Sophia works on website accessibility evaluations and marketing communications and is also our resident world traveler. She earned her bachelor's degree in marketing from Dalhousie University in Halifax, which she then parlayed into creative services work across Canada, in the UK and on cruise ships. Along the way she earned a master's degree in Library and Information Science from City University in London. More recently she worked at Santa Rosa Junior College, where she also completed certificates in web development and design. In 2020, Sophia became IAAP Web Accessibility Specialist (WAS) certified. In her off hours, Sophia loves walks with her adorable canine companion, Meg, taking photographs, and whipping up scrumptious vegan fare.
Marketing & Operations Team
Anne Goodwin - Marketing Associate

Anne has a strong 30-year background in marketing, managerial, paralegal, and customer service in a variety of industries. Her role as Marketing Associate involves the preparation of bid requests, customer/client communications and training coordination. Anne has enjoyed learning the world of assistive technology and continues to develop her proficiency. She has a Bachelor's Degree from Southern Illinois University and has been a 30-year resident of Sonoma County. Anne enjoys tennis and hiking in beautiful Sonoma County.

Tia Reed - Office Coordinator

Tia has a strong background in customer service, business management and accounting. Her role as Office Coordinator involves customer service, order fulfillment, and office organization. She has an Associates Degree in Accounting from Empire College in Santa Rosa, and has been a local Bennett Valley resident for over 25 years. Tia is happily married with four sons, two teenagers and two toddlers. She enjoys spending time with her family, nature walks, and reading.