Regular price
$1,000.00 USD
Regular price
Sale price
$1,000.00 USD
Unit price
per
Sale
Sold out
The Software Maintenance Agreement (SMA) provides upgrades and updates for two years.

This software is only available for purchase by California residents.
Experience the power of OpenBook® Software, a cutting-edge solution that effortlessly transforms printed materials and graphic-based text into digital format right on your personal computer. With state-of-the-art optical character recognition (OCR) technology and high-quality speech output, OpenBook® revolutionizes the way you access and interact with written content.
OpenBook® combines the unrivaled OCR engines of Nuance OmniPage and ABBYY FineReader to deliver unparalleled accuracy in text recognition. Seamlessly convert books, magazines, and bills into electronic files that can be read aloud. Enjoy the convenience of OpenBook®'s intuitive column detection feature, ensuring logical reading order for even the most complex documents. Plus, with adjustable language settings, you can effortlessly explore foreign language texts using native speaker voices.
For the ultimate efficiency and precision, consider complementing OpenBook® with the PEARL camera. Unlock swift and accurate access to your print material like never before.
OpenBook® caters to individuals with low vision by providing customizable on-screen text appearance. Tailor the font style, size, character spacing, and colors to your preference. The Split View option enables easy comparison between the original document and the OCR-converted results. Features like masking and Word Spotlighting ensure seamless synchronization with the read text, facilitating effortless reading comprehension.
Highlight important passages within documents for future reference.
Add personal comments directly to documents, making them truly yours.
Digitize bound books while preserving pagination for easy navigation.
Seamlessly export content to popular applications like Microsoft Word or Notepad.
Streamline your book search and download process from the Internet.
Enjoy comprehensive support for listening to DAISY and other audio files.
Access built-in Braille support for enhanced accessibility.
Utilize the convenient photocopy functionality directly within OpenBook.
Compatible with Windows 10 for a seamless user experience.
Please note that PEARL and scanner are not included.
OpenBook is compatible with all versions of the Windows® operating system. Refer to the system requirements below to ensure compatibility with your specific operating system.
Share to others
View full details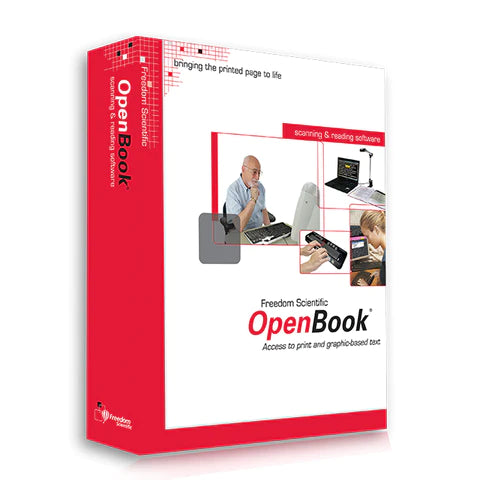 Have Questions? Let's talk! 
If you can't find the assistive technology you need, please visit our contact page and let us know your requirements. We're eager to help you find the right solutions.
For pricing and to purchase Multi-user Site Licenses, District Licenses, and Enterprise Licenses, please contact our team.